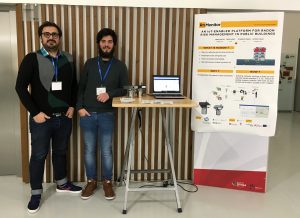 The RnMonitor R&D project, led by the Viana do Castelo Polytechnic Institute (IPVC), was represented by the researchers Pedro Martins and Sérgio Lopes in the demonstration of the technological pilot developed in the project, during the 5th edition of the Smart City 360 ° 2019 International Summit, which took place at the Altice Forum Braga, from 4th to 6th of December.
The Smart City 360º International Summit offers a holistic approach to all aspects of science and technology in the context of Smart Cities, challenging businesses and academia to come up with innovative prototypes and solutions that can put new challenges into the Smart Cities perspective.
The technology pilot under demonstration, entitled "RnMonitor: an IoT-enabled Platform for Radon Risk Management in Public Buildings", is a multi-parameter probe developed in the context of the Internet of Things (IoT) in partnership with Instituto de Telecomunicações, and a web platform that allows online monitoring of indoor air quality in public buildings. The pilot's main objective is to mitigate the risk associated with human exposure to radon gas, a radioactive gas considered by the World Health Organization as the second risk factor for lung cancer following tobacco smoke.
The Viana do Castelo Polytechnic Institute leads this project, which is in the final stages of execution, in co-promotion with the Telecommunications Institute, the Cávado and Ave Polytechnic Institute, the companies BMViV and Digiheart, and the municipalities of Viana do Castelo and Barcelos.